"I'm not telling you it's going to be easy, I'm telling you it's going to be worth it." -Anonymous

26th January 2023
Hello!
Have you recently ventured outside your comfort zone? This is a question I get asked every month by my coach. Sometimes, I can easily say "YES"! Other times I really struggle to think if I have stepped out of the zone. When that happens, it usually means I haven't. Because if I had, I would have remembered it! Stepping out of your comfort zone is memorable because it is uncomfortable!! Oh, but it is so necessary because it's in that zone of being uncomfortable where all of our personal growth comes from.
So why do we hesitate to make that move our of the zone, especially as we age? What are we afraid of? Failure? Not being perfect? Looking like a fool?
If you ask any successful entrepreneur how many times they have failed, weren't perfect or looked like a fool, they will have LOADS of stories. They are usually laughing when they tell the stories too because they are where they are now BECAUSE of those exact failures, imperfections and looking like a fool. It's like they view those failures as valuable assets - although you will never see a line item on their balance sheets showing the value of mistakes.
Think about it, when you invest in a coach or a consultant, wouldn't you rather put your money with someone who's been there, made the mistakes and learned the lessons? They will help you avoid their mistakes. But that doesn't mean you won't make your own mistakes, even with their guidance. To be an entrepreneur means you are going to make mis-steps, fall on your face occasionally and learn lots of lessons (if you are resilient enough).
The more you can become comfortable about being uncomfortable by moving outside your comfort zone, the faster you will grow, both as a person and as a business owner.
So what's the scariest thing you've done lately?
Taking the LEAP with you!

5 Benefits of Stepping
Outside Your Comfort Zone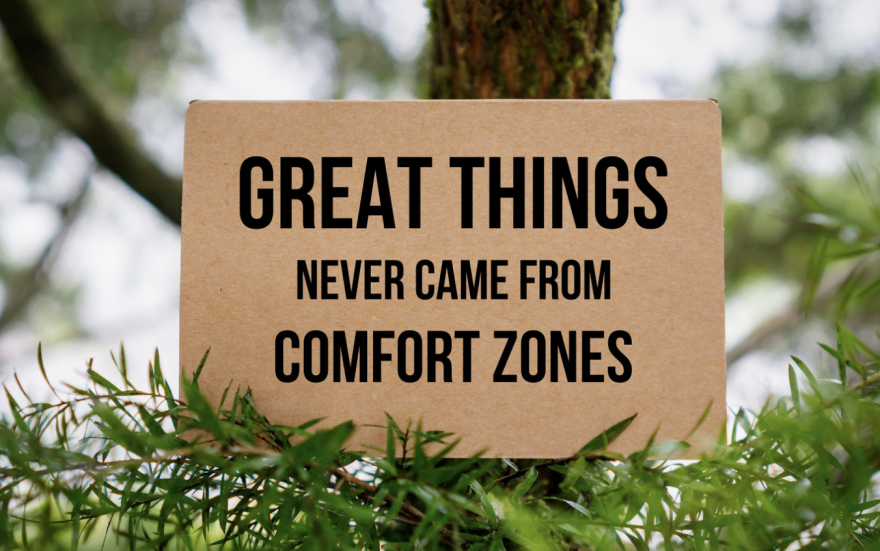 To live life to the fullest, you should always strive to move more and more outside your comfort zone and reap the rewards.
Many people have been stuck in their comfort zone all their lives. Sad but true. Some self-sabotage any effort they may make to leave their comfort zone because it's just too hard. Their mind immediately goes to "flight, fight or freeze" mode. In my experience, dreams don't grow in the comfort zone. So if you are looking to achieve a big goal, more than likely you are going to need to move outside your comfort zone.
How badly do you want it?
Here's the good news....You can get out of the comfort zone and into the growth zone...
.........BUT only if you take consistent action to get uncomfortable.
Doing something a little uncomfortable one day and then "taking a break for a few days" does not work. You need to push yourself to make it a habit to get uncomfortable every single day. Only then do you get the benefit of growing to become your best version. This usually requires a new mindset. It starts with recognizing the benefits of learning to love being uncomfortable.
Here are five of the top benefits of stepping outside your comfort zone.
1. Do you ever watch television and say to yourself, "Wow, that person bungee jumping sure is brave. I could never do that myself." Deep inside, you wish you could do some risky things for yourself. Taking a giant leap off what appears to be a step cliff in your life, however, is not necessary.
Take small steps, feel the pleasure and then take another step. When we speak of bravery, it may be taking action such as trying a new sport or talking to someone with whom you would like a relationship. As you step out of your comfort zone and ignore the little negative voice in your head, you will build up your bravery step by step, and it will help you not only in your personal life, but in business as well.
2. Growing your creativity will be an asset to your life. Many people lose their creativity as they grow older. By increasing your creativity, you will notice another benefit. Your passion for life and your work will grow.
You will want to start the day off right and use your creativity to help fuel your passions. It is a win-win situation for you when you get out of your comfort zone and become more creative because you have a new perspective.
3. Breaking out of your comfort zone will help you build your confidence. When you pick a task or an action, such as joining a dance class to break out of your comfort zone, confidence will become your new best friend.
Once you enjoy that first success at breaking out of your comfort zone, you will also be confident to look around and see what you can do next. As mentioned, you might start with submitting an article for publication and then move on to writing that book you've had in your head for years. You could also increase your writing skills to the point you decide to start teaching and reap the reward of helping others step out of their comfort zone. Your confidence can be built up to the point where you are super confident and can step out of your comfort zone in any area you see fit.
4. Breaking out of your comfort zone will help you adapt to rapidly changing situations. This can be in your personal life, your business, or in the work you do.
When you break out of your comfort zone and show others you can adapt to and overcome situations, you become someone people are attracted to. They want to be like you. They want to work with you. They want to be friends with you.
5. Your brain needs exercise. It thrives on building new neural pathways and strengthening the connections between existing neurons.
Getting out of your comfort zone makes your brain work and look for ways to assist you. Your brain knows you are looking to grow and expand. This excites the aging brain as it does not always get the necessary exercise like it did as a kid when it was learning day everyday. Remember, you brain is a supercomputer that needs new commands daily, or it will start to decline in function.
Now that we've covered some of the benefits of Stepping Outside Your Comfort Zone, your next step is to choose ways that are right for you. Once you make your choices, set up a plan to work on those steps, and as you leave the comfort zone, you can implement more.
Remember you must consistently practice; i.e. take action for the new habits to install in your mind. Create morning and daily routines to reinforce the concepts in your mind. As you experience a new mind shift towards growth, celebrate your achievements.
And if you struggle with this, ask a friend, or hire a coach!
Challenge: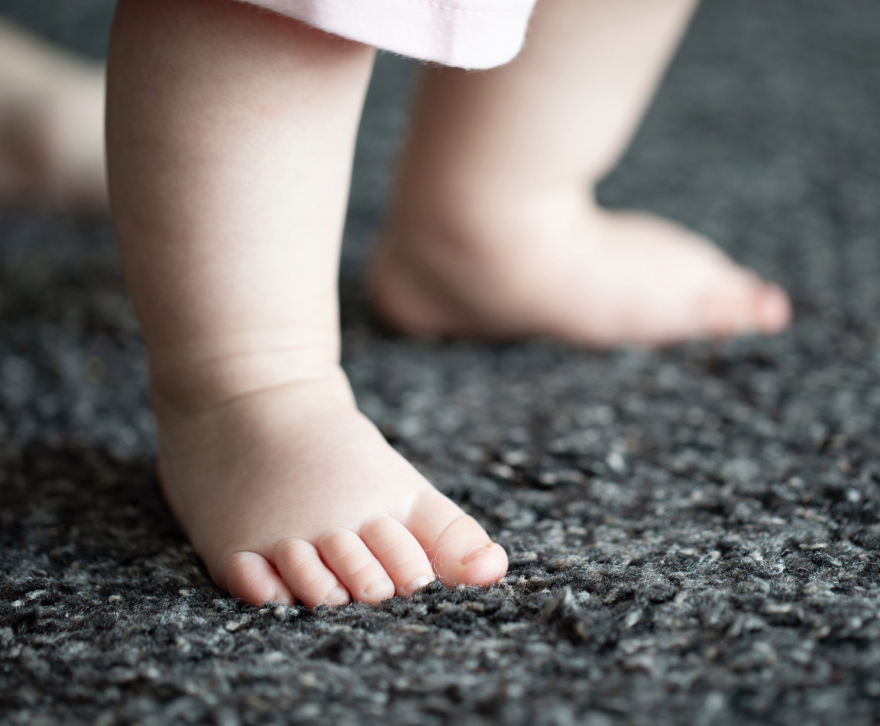 Pick one thing to start with. Remember to take small steps and make a commitment to follow through. Find a way to remind yourself to practice this new habit every day! I like to put a post-it note on my bathroom mirror where I'm sure to see it several times a day. It also helps to attach my new habit with an old one, like brushing your teeth, or saying you will do it before you can have that first cup of coffee.
Here are a few ideas!
Get more physically active: Walking, dance, Zumba, yoga...
Consider a new reading genre: Most people stay stuck in reading the same genre. Some are hard-core science fiction or fantasy readers. To get out of your comfort zone quickly, head to the local bookstore and start browsing different genres.
Learn something new: You cannot be in the growth zone if you are not a learner. Find out the things you need to know to improve your skills.
Practice a daily morning ritual: Meditate, journal, walk. Early in the morning is often an ideal time. It is "your" time... before the demands of the day start streaming in!
Make the sales calls: They don't have to be yucky - I've learned to actually love them - want to know how? Set up a call with me!
Be sure to watch the video below to give you some great ideas on building new habits!
---
RESOURCE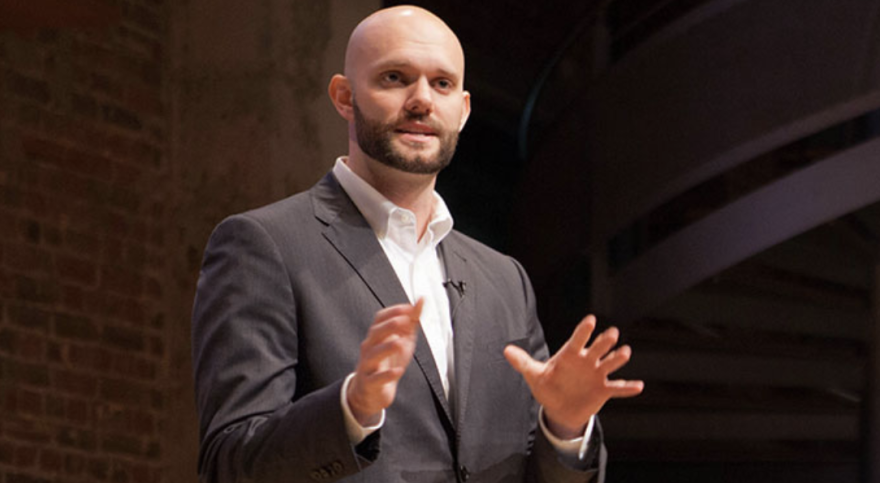 Click here to listen to James Clear explain why our daily habits are so important. He offers some great tips for creating healthy habits that can last a lifetime. He is a writer and speaker focused on habits, decision making, and continuous improvement. He is the author of the no. 1 New York Times bestseller, Atomic Habits. The book has sold over 5 million copies worldwide and has been translated into more than 50 languages.
---
Let's connect...
Join me in a one-hour complimentary strategy session to help determine how you can move forward in getting unstuck, and gain momentum to move in the right direction for you. During our session, we will go over one or two exercises and determine the one next step you can take on your own after the call to keep the momentum going. Click here to schedule your session
SOCIAL MEDIA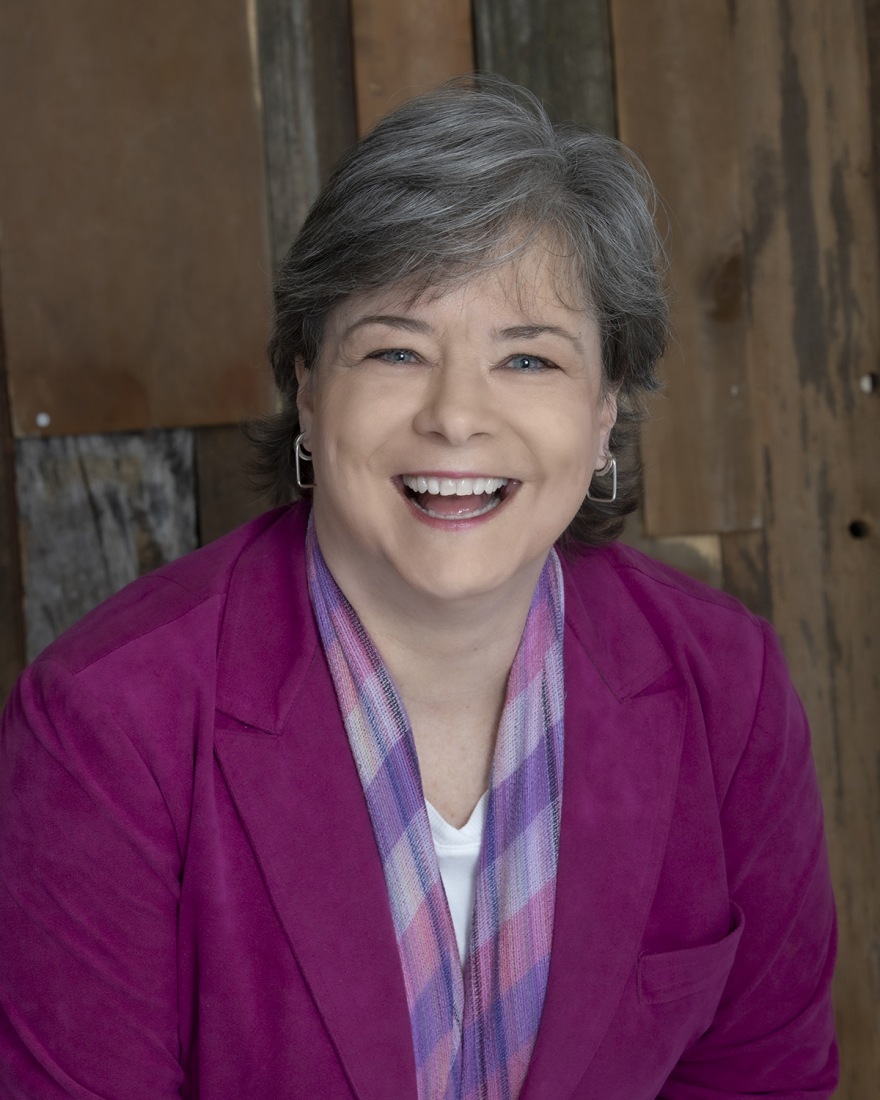 Renée Blasky is the Founder and CEO of The LEAP Network Ltd.
Renée discovered her business and mindset coaching super powers when she was approached by a woman looking for assistance in developing a business opportunity. She hasn't looked back since. Coaching women fits with her passion to empower women so they live a fulfilled life and make choices from a foundation of personal power, financial freedom and a deep sense of accomplishment.
Through her own experiences, as well as coaching women entrepreneurs and women in finance, Renée understands women often undermine their confidence and self-esteem. Consequently, they jeopardize their success paths, and mental fitness. As mindset accounts for an estimated 80% of success and happiness, Renée helps her clients to understand the lies they are telling themselves, how they are sabotaging their performance, wellness and relationships and helps them to establish a new journey to thrive utilizing their superpowers.
Renée helps her clients find clarity, regain their passion, set stick-worthy goals, stay focused, create the right mindset, and be accountable. She also gently pushes her clients outside of their comfort zones and helps them face their fears so they can achieve their dreams. Renée works with her clients through various online courses, webinars, one-on-one coaching, and group coaching programs.
Renée, who trained as a life coach with Tony Robbins and Cloé Madanes, is also a certified trainer for Marci Shimoff's Happy for No Reason and Susan Jeffer's Feel the Fear and Do It Anyway courses based on their respective books of the same name. She is also trained in the Positive Intelligence® program to increase her client's mental fitness.
Renée is aptly qualified to coach women entrepreneurs and women in investments having founded two of her own businesses; investment management consulting services and business coaching. She is passionate about equality, diversity and inclusion and loves multi-cultural environments, having lived abroad for 35 years with assignments in 13 countries. She obtained her Chartered Financial Analyst (CFA) Charter in 1990, and has over 30 years of experience in the investment/finance industry. She is listed in Marquis Who's Who in the World and Who's Who in Finance. She has also received various awards and recognition in the investment industry through her work with the CFA Institute and the development of capital markets in East Africa.
Learn more about Renée and The LEAP Network by visiting her website here: www.reneeblasky.com
You can also send an email directly to Renée at renee@reneeblasky.com